Back to School Customized wholesale Face Mask coverings available to buy now in bulk
Posted by IAN KARLEFF
Mayors across the province of Ontario are pushing for mandatory face masks in public and indoor spaces.
Toronto, Mississauga, Peel, Kingston, Halton -- the push for mask wearing is spreading as fast as the underlying Covid-19.
It is now mandatory in Kingston and Peel regions, while Toronto and Ottawa are considering it. The provincial government of Ontario has said it will not make a blanket policy -- but things change fast with Ford.
In the United States, Iowa said no to masks, New Jersey said yes.. and the debate rages across North America.
LEARNING FROM OVERSEAS
And while opposition to masks is as strong as those that advocate for mandatory mask coverings -- evidence from Europe and Asia show that there is a correlation between mask wearing and the spread of infection.
The group Masks4All   lists 130 countries on its website that have mandatory face mask policies, and their research on their site urges the same where it is not mandatory. See the research for yourself HERE.
WHERE CAN YOU GO WITHOUT A MASK ?
It looks like the list is growing slimmer and slimmer by the day.
Don't try entering the following places anytime soon without getting a nasty stare or rebuke for not wearing a mask:
Planes, hair and nail salons, grocery stores, libraries, buses and trains, retail stores, churches, community centers -- did I miss anything ? 
BACK TO SCHOOL
It's still a few months before school resumes, but Face Masks will likely be a welcome precaution in a handful of school settings.
Assemblies, sporting events, concerts -- places where many generations come together. This will likely be welcomed and appreciated.
So what's your School going to do ? Perhaps Fashion Face Masks are now part of the Uniform. How do you want it to look ?
Uranta Mindful Clothing did our own scouring of the Internet and came up with 10 wholesale providers of Fashion Face Masks -- non medical masks that are reusable, washable and most importantly ready to customize with your corporate logo and colors.
All these masks ship within North America and most have online design tools to help you get that perfect custom face mask.
Uranta, a maker of lifestyle yogawear, based in Mexico, has been supporting fair trade workshops using upcycled fabrics for over a decade.
Our company turned to a few of our workshops to make a Premium, 2 layer, polyester/cotton face mask that is super economical and can be branded with your Logo and corporate colors.
Wholesale customers can order sample packs of 10 at $4.79 each and get this reimbursed with their first order of 1000.
200 Black face masks with 1-color Logo are currently only US$327
500 Black face masks with full color design - anywhere on the mask. Make the design discrete or the entire mask at US$2.49 each and only US$2.29 each when you buy 1000.
Face masks can be customized and shipped anywhere in North America in two weeks for most orders.
Customization: Yes
Online design tool: Yes -- Click here to start designing
Standard Colors: black, white, blue, rose and others
Samples on request: Yes
Ships: Free duty free shipping in under 2 weeks from order
Look for our masks in First Choice Haircut Salons and Magicuts across the province.
CONTRADO
Contrado's masks can be fully customized at $25 each, with four sizes and a customization tool that you can add your own graphics or text.
The company doesn't display wholesale prices on its website but asks you to apply for an account to do so. It also doesn't talk to the exact fabric or specifications of the masks themselves.
These masks are perfect for the discerning mask wearer who wants to build a mask drawer of masks that are a good personal fit and a multitude of designs for every occasion.
Colors: Multitude
Customization: Yes
Online design tool: Yes
Shipping: The company says a fast 1-2 days
The masks are made of 2 layers of 100% ringspun cotton and like all the masks on this list they are not made to stop viruses.Crestline has what is the most customizable masks on the Internet today. You select product color, followed by stitching and then add a logo -- all with their easy to use design tool.
Pricing for these super customizable face mask coverings starts at $10.65 for 150 pieces, dropping to $8.85 for more than 1,500. There is also a setup charge for this and the other masks on offer of $63.
The company says its total processing and time to ship is about two weeks.
Color: Multitude
Customization: Yes
Online design tool: Yes
Shipping: Two weeks
Swag.com offers up their Braddock Face Mask in black or charcoal grey, with customization bringing the cost of the masks between $7.44 and $10.41 based on quantities.
The company offers a design tool that you can apply your images to the Front, Left and Right sides of the mask.
These masks are made from a number of different materials depending on base the base color with black masks made of 100% recycled Ringspun cotton and the charcoal colors a cotton polyester blend.
Delivery is a standard 30 days from order.
Colors: 3 Colors
Customization: Yes
Online design tool: Yes
Shipping: 30 days from order
National Pen has a ton of different face mask options listed on its website. Customers can customize the masks in all sorts of different ways.
The company's 3-layer reusable full color mask, a polyester (95%) and cotton (5%) blend, with a full color imprint across the mouth area costs $7.46 for 150 pieces and at 1000 units that drops to $6.41 each.
There is a setup charge of $58 applied to orders that ship in 16 to 20 business days – so with weekends this will probably mean a one month process.
Colors: White with black stitching
Customization: Yes
Online design tool: Yes

Shipping: one month  
BUY NATIONAL PEN FACE MASKS HERE
The Line Up has stepped up in Minnesota to produce its Made In USA soft cotton jersey fabric masks.
The handsome masks can be styled up with a logo and custom color with prices for quantities over 100 masks ranging between $5 and $7 per mask.
There is a inquiry form on the company's website and while there is no online design tool, they advertise that they will design for free orders above 100 masks.
Colors: Grey with a color accent on the top edge
Customization: Yes
Online design tool: No
Shipping: One to two months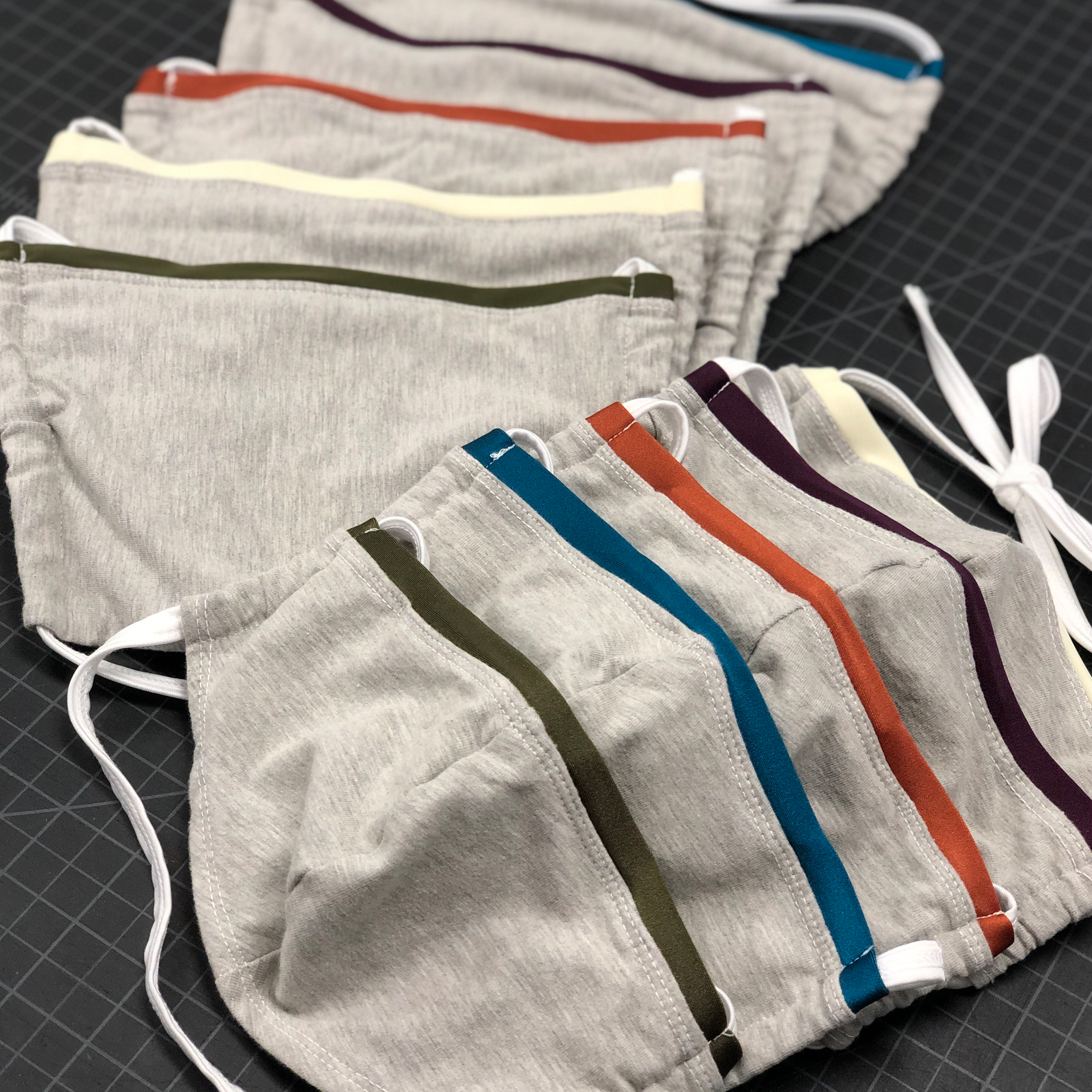 BUY THE LINE UP FACE MASKS HERE
The Face Masks from Totally Promotional are cup shaped - kinda resembling one half of a bra -- with some very nice printing of logos and graphics.
Their blank masks run at around $1.79 per 100 and their full color printed masks at quantities of 50 are $2.79 with that dropping to $2.14 for 5000.
The company says the masks are made of 3 layers of polyurethane foam with latex elastic ear straps with a onesize fits all.
Customization on the cheek with a full color logo comes with a setup fee of $35 and there is no online design and preview tool.
That being said, the best thing about these masks is the 43 color selection to choose from.
Colors: Multitude
Customization: Yes
Online design tool: No
Shipping: Standard production time is 7 business days plus shipping
BUY TOTALLY PROMOTIONAL FACE MASKS HERE
Signs.com has gotten into the face mask game with a 100% polyester fabric, 2 layer mask that is available in large and small sizes.
The company's mask are touted as a comfortable fit with either fabric or elastic ear straps with shipping in as little as 10 days.
Pricing isn't cheap for the masks that can be designed with the company's online design tool with 1,000 masks costing $11 each and 10,000 running at $10.76 each
Color: any pattern imaginable
Customization: Yes
Online design tool: Yes
Shipping: website says as few as 4 days to ship
The Vistaprint 2-layer RFS mask has a removable filter and comes in both Adult and kids sizes with adjustment capabilities. The outside layer of the mask is a polyester spandex blend and the inside is 100% cotton.
Vistaprint offers the mask in numerous colors and prints but it is not clear if you can also have custom design or logos on the mask as you can with their other promotional products.
Pricing for one mask is $18, and this drops to $13.50 for 500 to 999 masks. You have to call them for quotes over 1000 masks.
Customization: Most likely
Colors: Myriad of colors and patterns
Ships from: No origin specified, free shipping
T-shirt online customizer Custom Ink has two masks on offer that with their design tool you can jazz up anyway you like.
The Single Layer basic cotton-spandex face mask starts at $5.53 each for 1000 customized masks with that dropping to $5.16 each for more than 10,000 masks. If you want to give them a try you can buy a 12-pack without customization for $2.08 each.
The company also offers a three layer cotton mask at $7.50 each for quantities of 1000 face masks with customization, or you can buy 100 of these for $3.50 each without logo.
Pricing and design is fast and easy with their online design and pricing calculator.
Color: white
Customization: yes
Ships from: USA
The Tote Bag Factory, based in California with warehouses across the USA, is making their single ply, "adjustable daily face mask" that can be customized with up to a 3 color logo on 3 colors of masks.
The company ships and sells the 5.5 ounce, cotton/polyester masks in cases of 2,400 units, packed in 10 bags of 240 pieces.
Pricing is $1.45 for up to 600 non-customized masks, dropping to only $1.16 for 24,000 + masks without logos.
The pricing with logos starts at $2.95 with a one color logo, and climbs to $4.95 with three colors.
Color: Navy, Black, Heather Grey
Customization: Yes
Ships from: USA